Following a collision after which they were forced to switch to their replacement cars, Sébastien Buemi (Renault) and Lucas Di Grassi battled for the final points of the world championship title. Sébastien Buemi completed the decisive lap faster, beating Di Grassi to the championship by 4.83 tenths of a second.
"When we entered into this technology partnership with the ABT team we had no idea of just how thrilling and exciting this visionary motor sport would be – nor that our team would be so extraordinarily successful," said Oliver Konz, CEO at Würth Elektronik.
Thomas Schrott, also CEO at Würth Elektronik added: "We are delighted! Second in the team standings and second overall for Lucas Di Grassi – that's one position better each than last season. And we are extremely pleased that our partnership will continue in the same constellation next season, which starts on October 9th in Hong Kong."
A strong team
Formula E's first season saw all the drivers racing in identical cars, yet since this (recently finished) second season the racing teams have been able to shine with their own developments. As such, and as planned by Würth Elektronik, the technology partnership to promote e-mobility is becoming increasingly established, with an added positive effect for our customers who can benefit from the resulting product improvements.
Oliver Opitz, Division Manager Strategic Product Development at Würth Elektronik eiSos and responsible for the technical aspect of the company's involvement in Formula E racing said: "The power trains now contain more Würth Elektronik components than initially intended (particularly chokes). For us, it's about storage and filter inductors as well as high-performance connectors. Our components are on board because they were selected for their reliability for the power trains. Würth Elektronik stands for standard components that can be used for all kinds of applications, primarily in industry, but also increasingly in the automotive sector."
Tests already ongoing
The team has been busy testing the cars' latest developments in Italy and is now preparing for the open tests in Donington Park (UK) in August. Further improvements are being made to the racing car design and a new front wing will then be presented.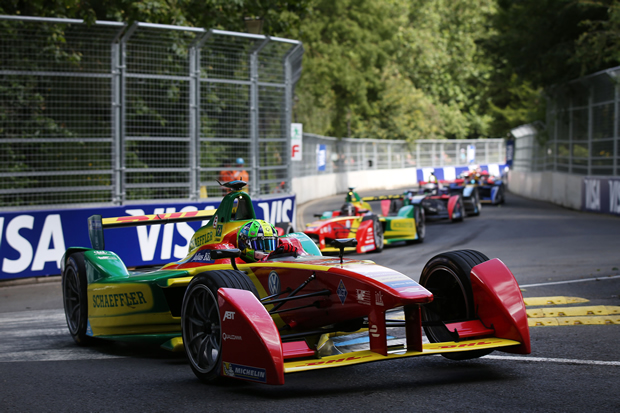 Here are the dates for the Formula E 2016/2017 season:
9th October: Hong Kong
12th November: Marrakesh
18th February: Buenos Aires
1st April: Mexico City
22nd April: TBD
13th May: Monaco
20th May: Paris
10th June: Berlin
24th June: TBD
1st July: Brussels
15th/16th July: Montreal
29th/30th July: New York